Breeding Well-Marked Pieds
Nov 03, 2012
One of my breeding objectives this year was to breed some well marked pieds. I have an own bred hen who was one of the first chicks I bred from a pied pair I obtained from Lahore in 2009. She is very well marked and has previously been bred with split pieds and not so well marked birds. She is a good experienced breeder but has not produced any chick with a pattern as good as her own.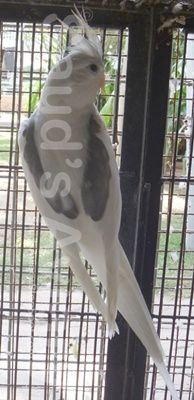 The cock
The hen
The male I chose for her this year is a bird I purchased from the Liaquatabad market in July 2011. He was young at the time of purchase. He has an almost equally good pattern as the hen. Last year he bred well with an experienced hen who is the mother of the hen mentioned above.
These two birds were paired up on 17/09/2012. Since both birds were experienced good breeders, I was expecting them to get down to business within 2 weeks. They showed some initial signs of bonding but then the male lost interest. Pairs around them started to lay but they seemed uninterested. I gave them more time. Other pairs started hatching eggs but they still wouldn't lay. The male then turned aggressive against the hen and started to chase her around the cage. I had no choice but to move the hen back to the flight. The male was left alone in the breeding cage. A couple of days later, I caught the male peeking through a gap in the cage tray and calling out to the hen below. The hen below was raising chicks with another male. I immediately understood what the problem was. This hen in the lower portion was his former partner with whom he had raised two clutches last year. He was still bonded to her and that was the reason for the aggression towards the previous hen. I moved him to another cage on 26/10/12 which was further away from his old partner and gave him back the pied hen that he had earlier rejected. Within 4 days the pair was visiting the box and on Nov 7 they started their first clutch. A total of 5 eggs were laid. All fertile. Four eggs hatched. The eldest chick is 9 days old today and has been banded. He has been moved to another pair with 2 chicks to allow his parents to better care for the three smaller chicks. The older chicks is showing a promising pattern in the small pins he has produced so far. I will share pics of the chicks as they progress.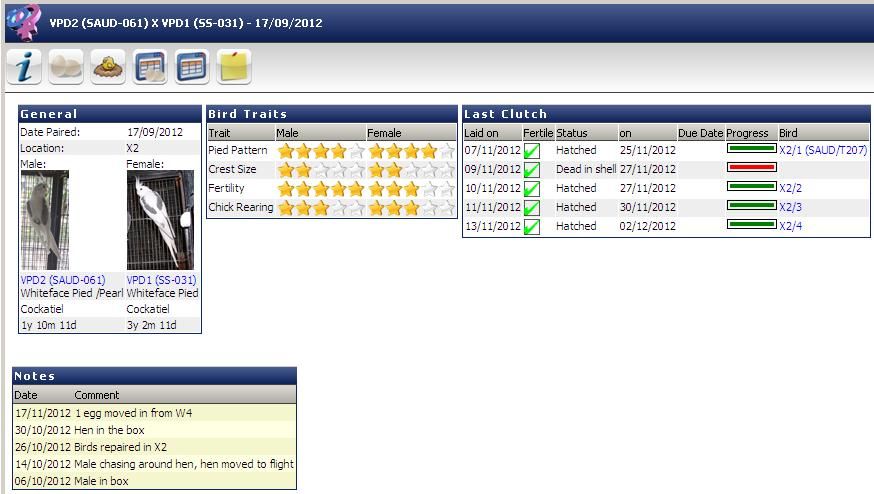 A screen grab for the pair's progress from Aviman (my aviary management software)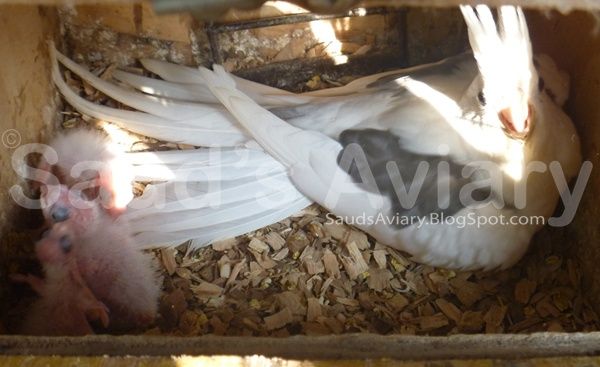 The mom and her chicks
There are 4 chicks in the box. One chick has been moved in from another pair.
Eldest chick 13 days old & showing a promising pattern.
The chick is now 22 days old. It is a Whiteface pearl pied.
Since it is a pearl it must be a hen. Showing a v nice pattern.
About 2 months old